January 27th - 28th (Saturday, Sunday), 2024. Two days of intensive training.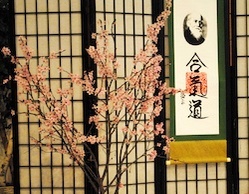 Pacific Aikido Federation (PAF) is hosting the Aikido Winter Retreat. This year we again have the opportunity to train with Shiohira Sensei, 7th Dan Shihan.
The Winter Retreat will be held in Sonoma County at the CYO Retreat Center near Occidental, Ca. The center is located in a coastal forest surrounded by redwoods.
It has a beautiful and spacious lodge with a large training area. Food and sleeping accommodations are provided. This is an opportunity for concentrated Aikido training in a beautiful, natural setting. All Aikido practitioners, regardless of rank or affiliation, are invited to participate.
This year the retreat will be two days of training from Saturday to Sunday with 3 aikido classes. Note that the last class on Sunday will end at 12:00. Sleeping cabins and 3 meals, including a vegetarian option, are provided. Directions and the schedule are available below on this page.
Instructor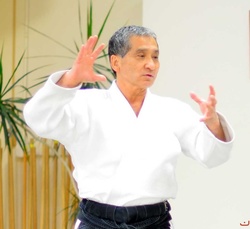 Shiohira Sensei, 7th Dan Shihan
Began training in Japan over 50 years ago at Waseda University. He was a live-in student at Hombu dojo for one year and studied under Kisshomaru Ueshiba Sensei and all the leading AikiKai World headquarters instructors there at that time.
His aikido is also deeply influenced by his study of Zen. He has been teaching Aikido for over 50 years in northern California and is founder and Chief Instructor of the Pacific Aikido Federation.
Shiohira Sensei has been training and teaching Aikido as THE WAY. Several of his students have become Aikido Masters (Shihan) or Zen Masters, and several more advanced ones just continue training. He wants to maintain a dojo where one can be free from distractions, to see things as they truly are and live a fulfilled life.
Winter Training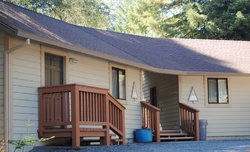 Weather at this time of year is brisk and the training is invigorating. It can also rain heavily, so please bring umbrellas, rain gear, rain boots, flashlights, etc. The temperatures can approach freezing in the evening and still be warm inside. So bring layers of warm clothes as well. Six person dormitory accommodations are available and each participant will bring their own sleeping bag, pillows, blankets, towels, alarm clock, flip flops, earplugs, soap for the laundry, and toiletries in addition to their training gear, including weapons.
Parking is limited so please carpool if possible.
Brief Schedule
Check In : Suturday TBD
Last Class: Sunday 10:00 am - 12:00 pm
T-shirt Information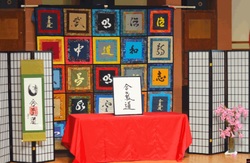 T-shirts featuring Shiohira Sensei's calligraphy must be pre-ordered online here - Form.
Orders must be placed by Monday, January 1st 2024.
T-shirts are $30 each. Payment is accepted online via PayPal to Mahika Rangnekar at This email address is being protected from spambots. You need JavaScript enabled to view it. (preferred) or by cash (can be given to Prashant or Amir Rangnekar). If paying by PayPal, please send the payment using your PayPal balance or bank account; credit and debit cards will charge Mahika a fee.
Questions: This email address is being protected from spambots. You need JavaScript enabled to view it.
Address, Registration and Payment information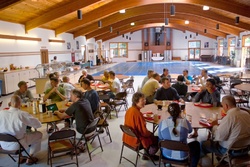 Address: CYO Retreat Center, 2136 Bohemian Hwy, Occidental, CA 95465 (Google Map)
Registration:
Please log in if you have the account or create a personal account on PAF web-site before registering for Aikido Winter Retreat.
You can also fill in the registration form without creating account.
Register online the Aikido Winter Retreat. To complete the registration, please print out a confirmation email, sign printed copy and mail it along with a check payable to Don Stratton. Mail address:
Winter Retreat
c/o Don Stratton
508 Lohrman Lane
Petaluma, CA 94952
Payment:
$200.00 - before Sunday, January 8, 2024
$250.00 - after Sunday, January 8, 2024
Make checks payable to Don Stratton
For more information call Don at (707) 591-1620 or email This email address is being protected from spambots. You need JavaScript enabled to view it.

Sunday, January 21, 2024 – Registration closes
Notes: After you registered on-line, payment and printed email with signed Release of Liability must be sent to the camp director by the address above.