Chief Instructor : Neil Toda Sensei
Senior Instructor : Ron Hsi Sensei
---
Tri Valley Dojo has classes in Dublin at the Dublin Library, Community Room. Classes are geared for beginners and intermediate students of Aikido. Visitors are welcomed during scheduled class times.
More information can be found at Tri Valley's Aikido Website - http://www.trivalleyaikido.com
Contact us by email: This email address is being protected from spambots. You need JavaScript enabled to view it.
---
Training Location
Dublin Library Community Room
200 Civic Plaza
Dublin, CA 94568
Tel:( 925 ) 556-4500

Dojo Training Schedule
Day Time
Tuesday 8:00 - 9:30 pm
Thursday 8:00 - 9:30 pm
---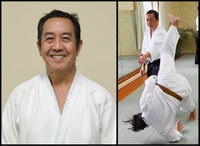 Toda Sensei's Biography
Neil Sensei teaches every Thursday night. He began teaching with Ron Sensei in 2008. Together they provide an environment where students of all levels can work together, help each other, and benefit.
Neil Sensei began Aikido in Shiohira Sensei's San Francisco dojo in the mid 80s. He has continued training with Sensei and has taught Beginner's, Teen's and general classes in Sensei's Mt. View Dojo.
Sensei Neil received his Godan Rank [ 6th Dan ] from Shiohira Sensei and continues to train with him every week.
---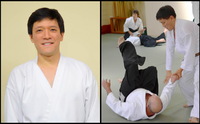 Hsi Sensei's Biography
Ron Hsi started Aikido training in 1999 under Jim McClelland sensei, the founder of Tri Valley Aikido. Over the years, he has had the good fortune to study from many instructors in the Pacific Aikido Federation, including the chief instructor Shiohira Sensei.
Since becoming the head instructor of Tri-Valley Aikido in 2005, Ron has continued to provide a safe and friendly training environment for students of all levels. He has also maintained affiliation with the Pacific Aikido Federation to learn from Shiohira Sensei's impressively powerful and compact techniques and to gain a deeper understanding fo the philosophy behind the art of Aikido.